Geography
---
Amongst the thousands of islands that are beautifully arranged from west to east in Indonesia, Bali is peacefully seated in the eastern part of the tropical country. Occupying an area of 5.632 kilometer, Balis beauty sparks out as a dramatic view but overshadowed with the arrogance of the active volcanoes.
The Balis mountainous area divides the island into northern and southern parts. Its exoticism lies on the beautiful silhouette of its white-sand beach­es. Outside the main island, Bali promotes some of tiny islands on, they are Nusa Penida, Nusa Lembongan, Ceningan & Menjangan ­Island that are undeniably paradises for divers and surfers.
Balinese puts high respect for the natural elements, including mountains, sea, springs, like lakes, rivers and other elements. They get acquainted with their physical existence while upholding a philosophy of being the sources for life. Hence, the nature and all the important elements have special space in the hearts of Balinese. The Balinese include them as important constituents in its spiritual and religious activities, exceptionally for Mount Agung, the highest mountain in Bali (3,141 meter) and Besakih Temple (the mother temple) of Balinese Hindus on its feet.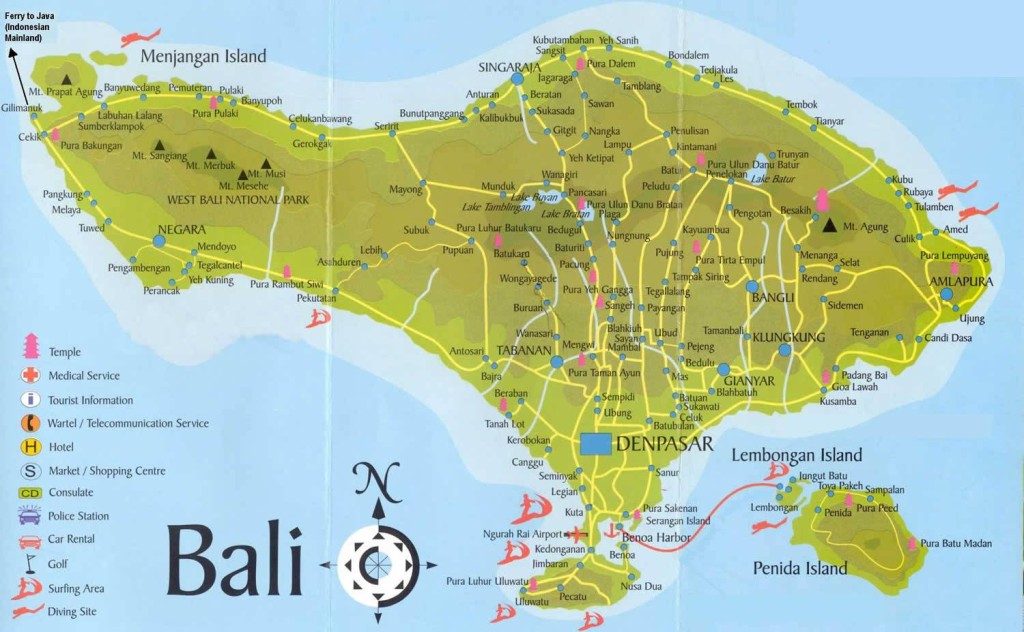 Traditions and Religions
---
Bali is densely populate & with over 3.5 million people, almost all of the Balinese Hindu Religion. The Hindu people retain the basic values that teach them of balance and harmony of all aspects in life, which is Tri Hita Karana.
Tri Hita Karana is a guidance on how to have a harmonious relationship with surrounding nature (Pawongan), others people (Pelemahan) and with Ida Hyang Widhi Wasa/God The Almighty (Parahyangan). The commitment to maintain and manifest the fundamental values into daily living is the thing that keeps Bali unique in life dynamic.
Balinese Hindus celebrates Galungan day and Kuningan day once in every six month and celebrate the New Year with special rituals called NYEPI. The Nyepi celebration is started with the conduct of catur Brata Penyepian (four forbidden things to do during the change of Saka Year) which includes amati geni (no light), amati lelunggaan (no trip), amati lelangguan (no entertainment) and amati karya (no activity). During Nyepi, all places in Bali for 24 hours will be left in silent and free from activities, including those in airport, harbours, terminals, and roads.
Synergy of Culture, Nature and Spiritual
---
Bali gives high values to nature, culture and spiritual life, which are all in synergy to create harmony and peace in the island.
Balis charm is not only anchored in the beautifully crafted paddy terrace which is watered by Subak system (a system that has been implemented for many years). The island captures the heart of tourists through a selection of dance and cultural ritual festivities also in spiritual awareness that make strong foundation to live their life. Besides, the honesty of the Balinese attains great respect from the other people.
Nature
---
Bali is gifted with rich nature. Not mention the fertile soil, abundant water resources, or friendly but cool weather, Balis land lets grow any plants. From rice produced at stunning paddy terrace to any plants and range of colourful flowers made for rituals, such as ba­nyan tree, coconut, plumeria, lotus, hibiscus, cempaka and other plants, its own characteristics Bali defines.
For Balinese, nature and plants are highly respected elements. In fact, they have special event to give deep salute to the plants, which is Tumpek Uduh. So many rituals you will meet in Bali are mostly to bring harmony into life, either on the sea or springs, forests, and other places.
Culture
---
A bounce of cultural attractions and creations from Bali have been put on stage everywhere in the world. People admire every move on Balinese dances, spirit behind the gamelan, the story of the puppet show, beautiful crafts, brilliant paintings, clothes, and other art and cultural designs.
Beyond the creativity, the deep understanding to the tradition and decency to present a masterpiece of art to the Great Creator, Ida Hyang Widhi Waca, also plays important role in cultural creations and attractions.
Spiritual
---
Spiritual activities in Bali are most dominated by Hindu rituals. Everyday in life in the island of thousands of temples, a spiritual activity takes place, especially on sacred days for Hindu people.
A spiritual event also takes place to mark each phase of life from the day of the birth, into childhood, adulthood, wedding ceremony until they are departed. One ritual process for the departed, called Ngaben, is in fact famous amongst the international community.
Attractions – The Colour of Celebration
Do not worry that you will miss interesting things in Bali. There are more to see than its amazing nature and culture, such as how Balinese live their daily life. There is always a spiritual presentation in efforts to keep the nature and the Gods creatures all in balance. Balinese celebrates life with full of joy reflecting the purity and gratitude to the life creator, Ida Hyang Widhi Wasa (God the Almighty).
To bring harmony into life, a Balinese has conducted some stages of spiritual procession since they were still in womb. They ride through the birth, maturity and mortality period with gratefulness and ceremonial procession. What an interesting event to follow through.
Bali, mostly Hindu/followers, lists a number of spiritual events, including a ritual event once on full moon or sleeping moon (tilem), great day of Galungan and Kuningan, and other sacred days. Through this event, they express gratefulness to Gods blessings on life.
Cuisine
---
Like the food of other regions in Indonesia, Balinese food is rice as the central dish served with small portions of spicy, pungent vegetables, fish or meat and served almost always with sambal or chili paste. Bali is a few of the regions in Indonesia whose majority of its people are non Muslims, thus babi guling or roasted suckling pig is a specialty, as is bebek betutu, smoked stuffed duck wrapped in bamboo leaves.
In Jimbaran area, for instance, you can sample seafood dishes while sitting on the beach. Visit this place in the evening, the cool atmosphere and caressing breeze will make your dining experience remarkable.
Climate
---
With sunshine shining throughout the year, Bali has a tropical monsoon climate, with pleasant day temperatures between 20 to 33 degrees Celsius or 68 to 93 degrees Fahrenheit. Rainy season starts from October to March, when the West monsoon brings heavy showers and high humidity. June to September is considered the driest season, with low humidity and it can be fairly cold in the evenings, the best time for any outdoor activities.
 Source: