Workshop on
E-Government Toward Smart City Implementation

In conjunction with:
2016 International Conference on Smart Green Technology in Electrical and Information Systems (ICSGTEIS)
7 October 2016
Swiss-Belresort Watu Jimbar, Sanur, Bali – Indonesia
Download Leaflet: [Front Leaflet] | [Back Leaflet]

Prominent Tutor in Smart City Area:
Professor Jeffrey Soar
The University of Southern Queensland, Australia
Professor Jeffrey Soar holds the Chair in Human-Centred Technology at the University of Southern Queensland where he researches technology innovation for human benefit. He came into research from a career at the highest levels of ICT management within large public and private organisations. He was CIO in several government departments in Australia and New Zealand including Director of Information and Technology for NZ Police where he managed the largest-ever ICT project impacting across emergency services. In academia he established two demonstration smart homes with the latest in innovations for independent living, entertainment, security and energy. His research has been supported by 7 Australian Research Council grants as well as over 30 grants from national and international technology and service organisations. His current research projects are in Technology for Economic Development, E-Learning and M-Learning, E-Government, E-Health, Decision Support, Mobile, Cloud, Algorithms, Adoption and Benefits Realisation, Human Computer Interaction and User Experience.
Hong Sin K.
CEO, Chairman and Founder of PhoenixICT, Asean CIO Association, Singapore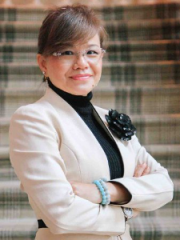 As CEO, Chairman and Founder of PHOENIXICT Group of companies (Singapore & Thailand), Hong Sin has spent her entire career serving clients, working on business development, introducing cutting edge technology to resolve issues from various business angle. Phoenixict was established with intent in recognizing the great skill and expertise of the crowd to bridge businesses effectively and efficiently through genuine relationship and connections. Creating the vision "nurture talent, innovate culture and bridge people/business to world class hub". Leveraging on crowd wisdom, we support the market idea through crowdfunding and crowdsourcing.
In passion of driving global crowdfunding, she took lead to create the 1st Crowdfunding Asia Summit to raise bar of awareness. Branded in Singapore, she enrolled the support of the international practitioners to join force to promote Crowdfunding as industry to sync with international development. She is committed to support Asia potential and innovation leveraging on crowdfunding as strong alternatives funding for startup, innovators and entrepreneurs; creatively even existing business expansion worthiness. Successfully scheduled for 2015 was a full year packed with summits due to demand adoption. Workshops were develop and customized to serve different needs. Her continuous effort in SMART agora extends the outreach beyond just funding but also sourcing. It also marks milestone as she continues developing her work but pivot to look at countries needs, challenges, demands and change. Understanding funding has always been a consideration for development; she starts her projects with identifying what best fit and serves the startups, SMEs, enterprises and government as she believes that "funding should not be a show stopper" with the use of alternative finance for genuine projects.
Her 2016 projects entails working on Europe-Asia opportunities in areas like SmartCities and Digitization to empower people and driving the plan towards realisation in various cities. Exchange programmes and drawing the "Pioneers expertise" and matching the "Young dynamite" is under creation now.
Hong Sin has worked with Asean government and enterprises to address major ICT, cyber-security and forensic. She also held the role to drive initiatives with top CIOs as International Liaison Officer for CIO16 Association of Thailand as well to support Thailand to develop the new ASEAN CIO Association. Currently holding the role of Advisor to Asean CIO Association, she engages all 10 countries decision maker to drive Asean Digital Economy through the development of key thrust and vision towards SMART Asean.
Her skill set were all acquired through her experience working in various industries successes. Her commitment to develop strong network was all showcase over the years through conferences, events and activities. Bridging relationship, entrepreneurial leadership and continuous business engagement are strength of hers.
A proven track record since 2001 in driving a regional distribution house for cybersecurity and forensic. She has developed a distribution channel of 700 resellers and more than 10,000 enterprises across ASEAN. Today, she is looked upon as pioneer in the industry for cutting edge technology development and drawing the world best resources to where the needs required.
With her passion and energy, she is highly sort after for business collaborations and idea manifestations. She has been instrumental to set standards through working with technology providers in many vertical fields. She is a firm believer of good business practices by means of building TRUST, INTEGRITY & ETHICs.
Direktur PT. Telkom
Kantor Pusat Graha Merah Putih Telkom
www.telkom.co.id
Jl. Japati No. 1, Bandung 40133
Agenda:
Workshop Agenda (Tentative)
Friday, 7 October 2016
| Time | Topic | Tutor |
| --- | --- | --- |
| 09.00 – 10.00 | Smart City: Government Cloud Strategy.  Case Study, Q&A | Prof. Jeffrey Soar |
| 10:00 – 10:15 | BREAK | BREAK |
| 10:15 – 11:15 | Government Cloud Computing: Policy, Services, and Security. Case Study, Q&A | Prof. Jeffrey Soar |
| 11:15 – 12:00 | Empowering Crowdsourcing and Open Data to fostering smart city. | Hong Sin K. |
| 12:00 – 13:00 | LUNCH | LUNCH |
| 13:00 – 14:00 | Smart City: Privacy and Protection. Case Study Practices and Q&A | Hong Sin K. |
| 14:15 – 14:30 | BREAK | BREAK |
| 14:30 – 16:00 | Smart City Implementation: Local Government Challenges in Indonesia | PT. Telkom |
| 16.00 | CLOSE | CLOSE |

Registration Fee:

Workshop Only
Rp. 2.000.000 / person
Workshop Certificate, Workshop Kit

ICSGTEIS 2016 Conference + Workshop
Local Participant (in Rupiahs)
Category
IEEE Member
(ID Required)
Non Member
General (Presenter) + Workshop

3.500.000

4.000.000

Student (ID Required)
(Presenter) + Workshop

2.500.000

3.000.000

Accompanying Person /
Observer + Workshop

2.500.000
Beneficiary Bank Account:
| | | | |
| --- | --- | --- | --- |
| 1. | Bank | : | PT. Bank Negara Indonesia (Persero) Tbk. |
| 2. | Account Number | : | 0434284273 |
| 3. | Account Name | : | SEMINAR INTERNASIONAL ICSGTEIS 2016 |
| 4. | Bank Address | : | BNI Cabang Renon, Kantor Kas Jimbaran, Jl. Raya Uluwatu (Poltek Negeri Bali), Kuta Selatan, Badung, Bali – Indonesia |
| 5. | SWIFT Code | : | BNINIDJARNN |
Methods of Payment:
The only available payment method is by Wire Transfer.
The conference committee must receive the full amount of the registration fee. Delegates should bear the Service Charge (if any) of the bank in the Sender's Side. Please write your name and paper number on the remark column of the bank slip/transfer receipt.
The registration fee does not cover the accommodation, transportation and other traveling related expenses.
A copy of bank slip/transfer receipt should be submitted to the secretariat through email : icsgteis2016@unud.ac.id & icsgteis2016@yahoo.com.
An acknowledgement of your registration will be emailed to you, immediately after completion of online registration.
A Registration Confirmation will be provided after clearance of the full payment. Please note that wire transfer usually takes few days for processing.
Registration receipt will be provided at on-site registration desk.
Contact Person: